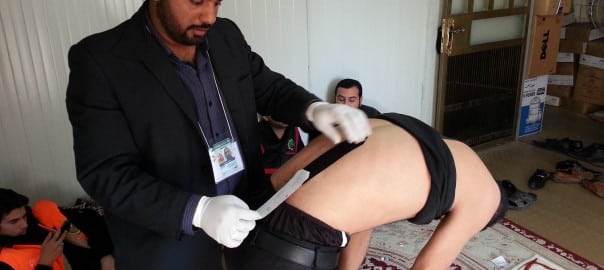 Dr. Hassan R. Jafri, PT, DPT, CKTP, COMPT, is president of Invigorate Rehab in Missouri USA. Every year he joins Imamia Medics International in providing medical care at the Arba'een celebration, a huge holiday held in Karbala, Iraq. We spoke with him in 2014.
"Kinesio Taping Method was very well appreciated and received in Iraq," he reports. "Patients loved the strategy for pain management and injury prevention."
"I had the pleasure to introduce the Kinesio Taping Method to a few medical school students at Kufa University & Karbala University."
"They were amazed from the Kinesio Taping Method by experiencing the results first hand."
Dr. Jafri will return in December for the next Arba'een observance. He intends to continue his outreach in Iraq and may be able to provide workshops for some of the medical students.