SURGEON AND CKTI SEES VALUE IN QUESTIONS
Dr. Mendoza enjoys a Japanese lunch with Kinesio Marketing Director Mike Good and the Kinesio crew.
Gustavo A. Mendoza Orta is an orthopaedic surgeon. Although he did not always plan to go into healthcare, he has always been interested in research and problem solving. When he was little he wanted to be a pilot. As he progressed in his education, he says, "I was directed into software and electronics engineering, in fact I had my own company before the age of eighteen."
Both of Gustavo's parents are medical doctors. When he was seventeen he went with his father, a surgeon, to work at a low income clinic. "He scrubbed me in and I got to see what he did for people." The experience made him realize how much of a difference a doctor can make. "I wanted to help people…no, not just help but change their lives." During his education and as an integral part of his career, Gustavo has always looked for the simplest answer, to find cheaper solutions to complex problems. "I live in a poor country. Eighty percent do not have access to cutting edge technology. This is the challenge, to find effective solutions that do not depend on expensive technology."
"I wanted to help people…no, not just help but change their lives." Gustavo discovered the concept of "neuromuscular bandaging" through a workshop he attended as part of an orthopaedic conference in Torre. He learned some basics, although he came away with more questions than answers. Still, he began to apply Kinesio Tape with good results. He saw it as a promising method of post-surgical and non-surgical care. "To be honest, when I heard about KTA about a year later I did not think I wanted to spend another whole weekend of my free time to learn what I already knew." He went anyway, and found answers to many questions that had been nagging at him. "I could tape over the muscles, but the KTA seminars taught so much more, about the fascia, about lymphatic taping, and about the concepts behind how Kinesio Taping works.
As an adjunct professor at the medical school in Coahuila he was comfortable moving into teaching as a CKTI. "That first workshop I took told me this much, then KT1, KT2 and KT3 told me so much more, then I learned more when I went to assist in other courses, and even more in Dusseldorf and at the Kinesio Taping Instructor certification." Not all his questions have been answered even now. "I am someone who always has more questions." He has found Kinesio Taping to be a valuable complement to his surgical and medical training. "I buy the bulk rolls, and at the public institute I tape everyone. It is fulfilling to see what works and what doesn't work.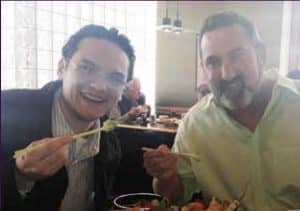 Having this additional tool has helped me to become a better physician." Make no mistake, he points out, "I still love surgery." But he also understands the bigger picture. "Some of the best surgeries are the ones I don't do, where I am able to identify the patients who really don't need surgery. I'm a skeptical guy, but not narrow in my thinking. As a physician I am willing to try less stressful solutions for attending my population." Much of his research and clinical work has been in addressing the use of Kinesio Taping as a technique to enhance recovery after surgery.
He notes that good research does not always follow predictions. Research is based on failures. When you get what you did not expect this may lead you to a more valid set of questions." And in the future? Gustavo would like other physicians to come into practice with taping as a tool right from the start. "My dream is to see Kinesio Taping in the textbooks of medical schools."